How to install and configure vRealize Network Insight 3.0
Hi Reader, I am back with another blog. I thought of writing a series of blogs on vRealize Automation. It seems not enough is discussed about the internal architecture and the generic configuration steps are too complex and needs some explanations. But before I do that, I thought of sharing a tutorial on "Installation and configuration of vRealize Network Insight". This is the newest addition to VMware kitty and the most happening kid at the moment :). So thought of taking it for a spin in my lab. Provided below are the steps from the experience.Before we start, here is a small intro to the product.
vRealize Network Insight is a product for delivering intelligent operations for your software defined network environment (specially NSX). In short it does what vRealize Operations does for your virtualized environment, but only to the SDN environment. With the help of this product you can optimize network performance and availability with visibility and analytics across virtual and physical networks. Provide planning and recommendations for implementing micro-segmentation security, plus operational views to quickly and confidently manage and scale VMware NSX deployment.
To start the deployment you need to download the following two appliances from VMware website:
VMware_vRealize_Network_Insight_3.0.0-1469457715_platform.ova
VMware_vRealize_Network_Insight_3.0.0-1469457715_proxy.ova
The first one is the main appliance and the second one is the proxy appliance.
We will start with the deployment of the platform appliance.
For keeping the length of the post to a reasonable length I have omitted the OVA deployment steps (you already know how its done :)) except the final network input screen.
Provided below is the screen where you need to provide the details like IP, DNS, NTP etc.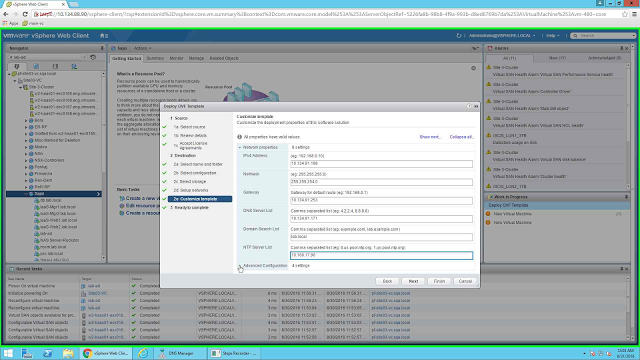 Network details input
Also note, here you have the advance option to provide HTTP proxy information or the log server information. Also note the "Log Push to the Cloud Setting" option. If you select this option then the logs will be pushed to VMware server in Cloud.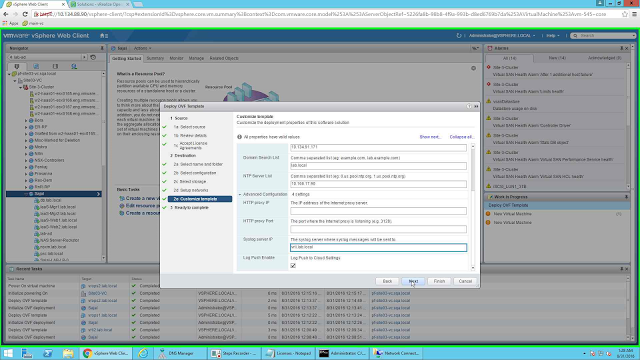 Advance setting for network
Once the appliance is deployed and powered on you need to go to the configuration screen by going to https://. In my case it is https://vrnetinsight.lab.local. Accept the certificate warnings.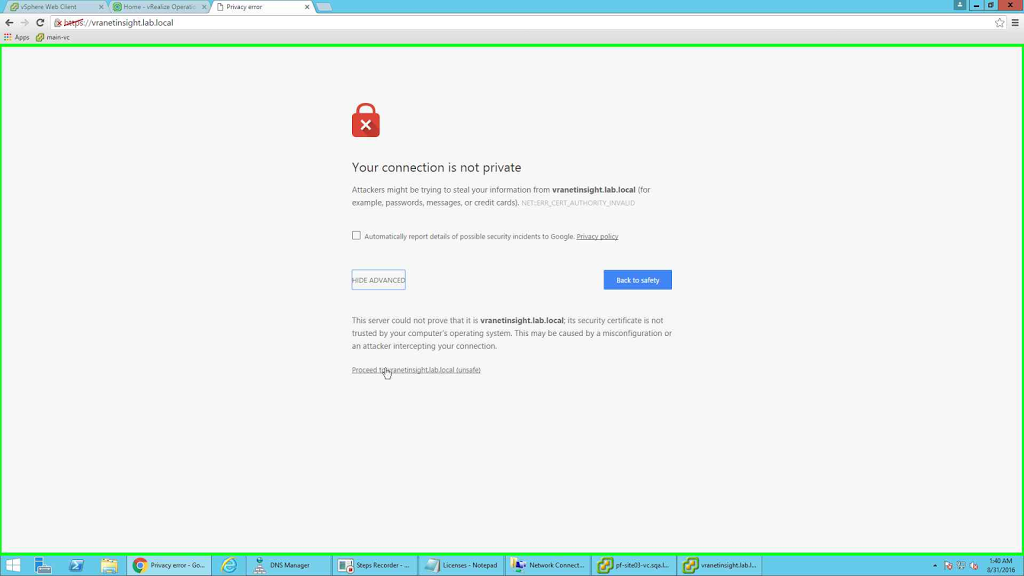 Accepting certificate warning
Next comes the license page. You need to provide the license key and validate the same.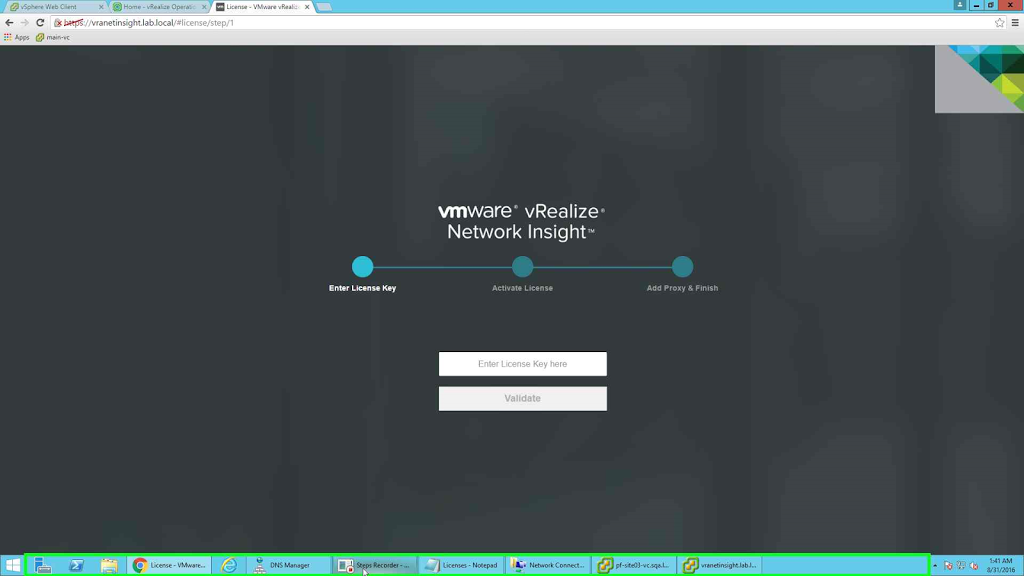 License validation page
So let me put the license key there and Validate. Once validated, it shows the details of the license.